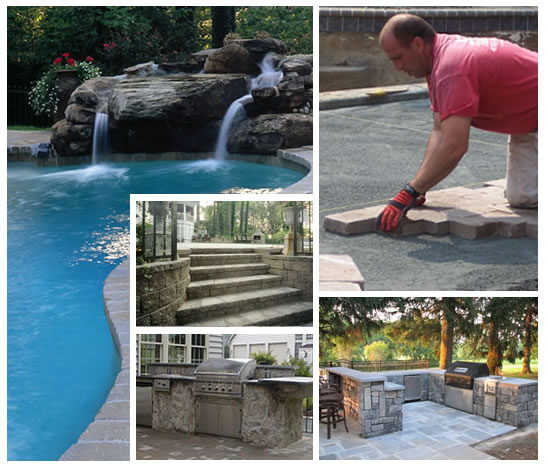 Creating beautiful outdoor spaces since 1987
.
Exceeding Expectations in Designing, Implementing, and Responding to the Needs of our Clients in Beautifying and Enhancing the Enjoyment and Value of their Property
All work and client satisfaction is guaranteed.

Since its founding in 1987, Olmo Bros. Construction and Landscaping has been committed to the above mission statement. The company is the pre-eminent landscaping and hardscaping contractor in the Baltimore – Annapolis area responding to the requirements of the residential, homeowner association, and commercial client communities.
As a result of our loyal clients' confidence in granting us the privilege of  beautifying their properties; the dedication and expertise of our experienced staff; and the support of our devoted suppliers in meeting our requirements for the highest quality products and services; Olmo Bros. Construction and Landscaping continues to achieve accomplishments ranked in the top 4% of landscaping companies in the Northeast/Midwest regions, and within the top 6% in the United States.*
*Based upon the results of a survey commissioned by industry leading publication, Lawn & Landscape Magazine.
Olmo Bros. Construction and Landscaping provides the commitment, expertise, and follow through to ensure that we not only meet the client's requirements, but exceed their expectations by ensuring completion within the agreed budget and schedule parameters, and by incorporating unparalleled quality and workmanship standards in the entire process from design through implementation.
Olmo Bros. Construction and Landscaping adheres to the three R's: Respect for self; Respect for others; and Responsibility for all of our actions.
Olmo Bros. Construction and Landscaping is licensed, MHC 88317, and insured.
Jennifer and Steven Nagel
Poolesville, MD
Olmo Bros Construction and Landscaping is the best company I have ever had work for me!! They are professional, hardworking and get the job done one time! We were so impressed by them with the first job they did, we had them back the following year to do another major project on our property. Gene and his staff are amazing. I would highly recommend them for turning your yard into a paradise.
Ginny Nayden
Crownsville, MD
Olmo Brothers did a fantastic job for us implementing our professional landscape plan. They are thorough, fast, and do an outstanding job. I definitely recommend them for any hardscape needs.
Erin Lemere
Crownsville, MD
From start to finish creating our backyard was so fun with Olmo Brothers! Gene and his staff were so friendly and professional. The quality of products and workmanship are amazing! No corners were cut to make our plan a reality! We look forward to working on many more projects together!
Hank Gundlach
Crownsville, MD
Olmo Brothers transformed our property and has added immensely to enjoying our home. No one visits our home without commenting on the beautiful setting Gene Olmo created and are blown away by the stone patio and fireplace off our walkout basement. It's a park like setting. I can recommend them more highly!
Kathy Parmele
Edgewater, MD
I can honestly say that work that the Olmo Bros. Landscaping folks do is by far the best (all services included). This family business is an extremely well-run one through three generations. I owe a huge thank you to Olmo Bros. Landscaping for taking the designs in my mind and making them a reality, and I am honored to give my highest recommendation!